You might notice a rise in shops selling mooncakes in Ipoh. That's because the Mid-Autumn Festival is just around the corner.
The Mid-Autumn Festival is one of the most well-known cultural festivals celebrated by the Chinese community in Malaysia.
It falls on the 15th day of the eighth Chinese lunar month when there's a full moon, with children playing lanterns in the street while the adults enjoy tea and mooncakes.
In the month leading up to the festival, you can find mooncakes being sold in almost every bakery in Ipoh.
To make your mooncake-shopping experience easier, we asked our friends in Ipoh to recommend the shops that make the best mooncakes:
---
Ming Yue Confectionery
Top on the list is Ming Yue Confectionery, known for their delicious and affordable traditional mooncakes that are freshly baked daily.
Their bestsellers are Ng Ngan (assorted nuts filling) and Kam Tui (assorted nuts filling with Chinese ham), which would often be sold out before lunchtime.
We were told that the queue is at least an hour, so it's highly recommended that you visit on a weekday morning to make sure you get the flavours that you want.
Oh, did we mention Ming Yue Confectionery sells the cheapest mooncakes in Ipoh?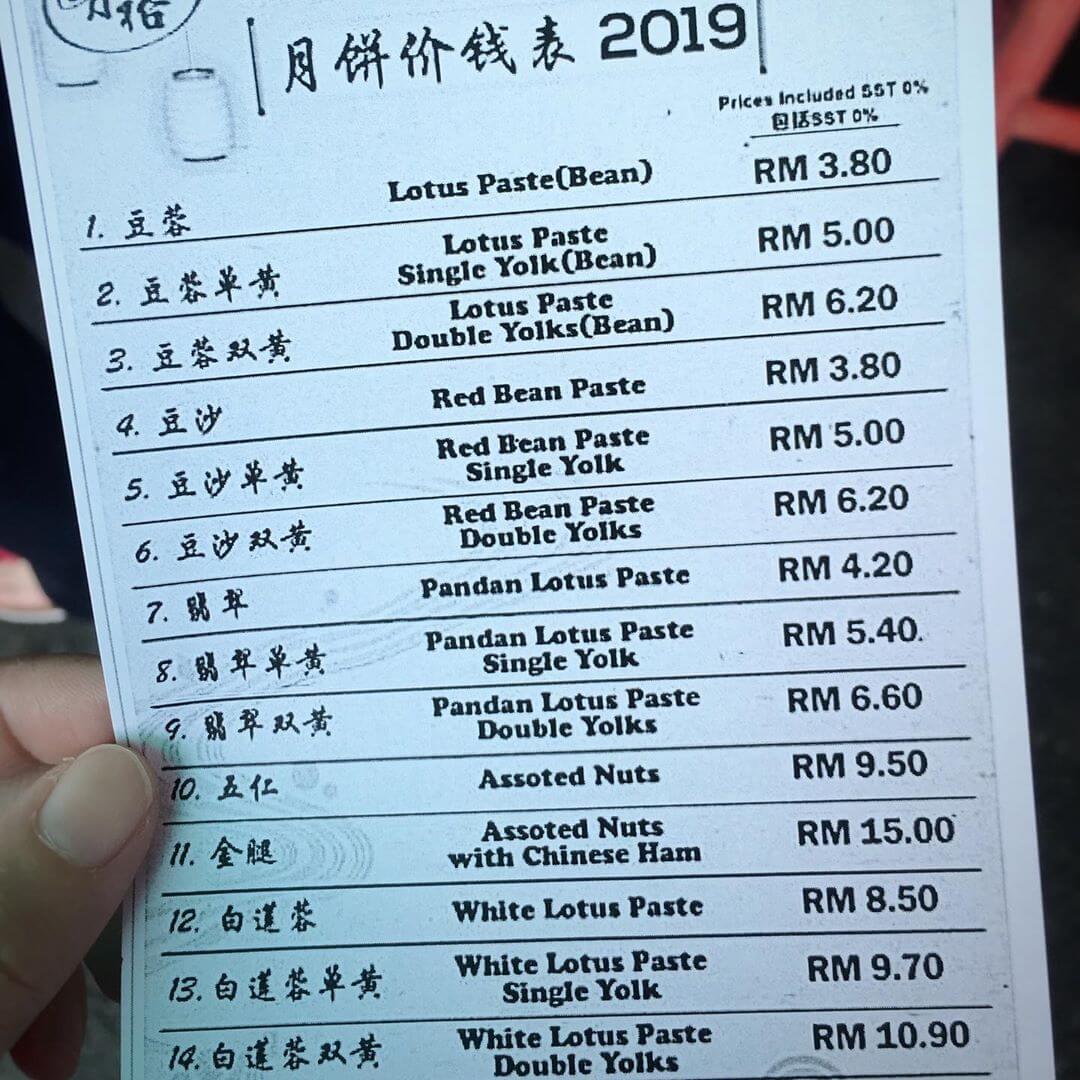 Ming Yue Confectionery
9:30am – 6:30pm on Mondays to Saturdays
9:45am – 6pm on Sundays
50, Jalan Peh Kee Koh, Taman Kampar, 31650 Ipoh.
Open in Google Maps
---
Makan Nyonya Cafe
Aside from serving great Nyonya food, Makan Nyonya Café also sells traditional mooncakes with fillings such as lotus bean, red bean, pandan, Ng Ngan, and Kam Tui.
You can also find the adorable piglet biscuits – baked pastries in the shape of piglets – being sold here, which are apparently really popular with the kids!
Makan Nyonya Café
7am – 3pm on Tuesdays to Sundays; closed on Mondays
57, Laluan Tasek Timur 3, Pusat Perdagangan Tasek Indra, 31400 Ipoh.
Open in Google Maps
---
Ching Han Guan Biscuits
Ching Han Guan stands out from the crowd with their popular Teochew walnut mooncake and BBQ meat mooncake. The former is a twist of the classic Teochew walnut cakes, while the latter is a sweet and savoury invention by the shop's owners.
Another unique offering they have is the pearly yam mooncake, which is a deep-fried mooncake with sweet yam filling.
Ching Han Guan Biscuits
9:30am – 6:30pm on Mondays to Saturdays;
9:30am – 6pm on Sundays
145, Jalan Sultan Iskandar, Taman Jubilee, 30000 Ipoh.
Open in Google Maps
---
Sin Eng Heong Biscuits
Most people probably know Sin Eng Heong for their legendary kaya puffs (baked puffs filled with coconut jam), while their handmade mooncakes are kind of a little known secret.
You can find everything from the traditional baked mooncakes to snow skin tones, and even Shanghai-style mooncakes which have a flaky and buttery crust.
Kedai Biskut Sin Eng Heong
9am – 7pm daily
64, Jalan Mustapha Al-Bakry, Taman Jubilee, 30300 Ipoh.
Open in Google Maps
---
Guan Heong Biscuit Shop
Guan Heong sells a wide range of mooncakes: from the common lotus paste to savoury ones like Bak Kwa (Chinese BBQ meat); and even unique mooncakes made from durian or longan and wolfberries.
Locals love their Hokkien, Teochew, and Shanghai-style mooncakes, as well as those with durian and Bak Kwa fillings.
Guan Heong Biscuit Shop
9am – 7pm on Mondays to Saturdays; 9am – 6pm on Sundays
Jalan Sultan Iskandar, Taman Jubilee, 30000 Ipoh.
Open in Google Maps
---
Hoong Tho Restaurant
Everyone in Ipoh knows Hoong Tho – it's one of those classic neighbourhood restaurants that you go to for special occasions, simple dinners, as well as for snacks.
People go there for their signature cempedak and red bean paste mooncakes, baked in a flaky crust in the Shanghai-style.
Hoong Tho Restaurant
10:30am – 3pm, 6-9pm on Wednesdays to Monday; closed on Tuesdays
20, Jalan Bandar Timah, 30000 Ipoh.
Open in Google Maps
---
Before leaving Ipoh: 8 Must-Buy Souvenirs in Ipoh Before You Leave
---
Oversea Mooncake Ipoh
Most of us would be familiar with the Oversea group of restaurants, which has branches all over Malaysia. The restaurant sells over 40 types of mooncakes, including fruity ones with strawberry and mango filling.
These mooncakes may not have the rustic homemade touch, but we were told that they taste just as great.
Plus point: Most of their mooncakes are halal.
Oversea Restaurant
11am – 10pm daily
65, 57, Jalan Seenivasagam, Kampung Jawa, 30450 Ipoh.
Open in Google Maps
---
Foh San Ipoh
The popular go-to dim sum place for visitors to Ipoh sells some fancy mooncakes too.
The ones that caught our attention are the orange peel lotus paste mooncake and durian lotus mooncake.
Restaurant Foh San
6:30am – 2:30pm from Wednesdays to Mondays; closed on Tuesdays
51, Jalan Leong Sin Nam, 30300 Ipoh.
Open in Google Maps
---
Qunkee Biscuit & Bakery
On top of their popular egg tarts and kaya puffs, Qunkee sells both baked and snow skin mooncakes during the months leading up to the Mid-Autumn Festival.
Visit this place if you like traditional baked mooncakes and piglet biscuits.
Qunkee Biscuit & Bakery
9am – 4pm daily
164, Lebuh 3, Kampung Simee, 31400 Ipoh.
Open in Google Maps
---
Chung's Petai Mooncake
If you're a big fan of petai (bitter bean), or you're just a foodie who's constantly looking for unusual gastronomic experiences, you might want to try this home baker's petai mooncakes.
Jennifer Chung first made these savoury mooncakes back in 2018, replacing the common sweet filling with one made from potatoes, spices, and petai.
Note: As this is a small-scale home business, Jennifer can only make 100 mooncakes per day and will only be taking orders up till 11 September 2019.
So petai fans, contact her soon if you want to try these unusual mooncakes in Ipoh this year.
Chung's Petai Mooncake
+60 113 383 4667
---
What're Your Favourite Mooncakes in Ipoh?
Don't see your favourite mooncake bakery here?
Drop us a comment and let us know.
---
While you're visiting Ipoh, these might be helpful:
5 Best Hotels In Ipoh (2019)
M Boutique Hotel Ipoh: 6 Astounding Reasons To Stay Here
8 Must-Buy Souvenirs in Ipoh Before You Leave
Ipoh Nightlife – 10 Exciting Things To Do In Ipoh At Night