Apart from its popularity as a tourist destination, Ipoh is also famous for its amazing local foods. From the legendary Ipoh White coffee to the bean sprout chicken, you will never run out of unique and tasty local foods to try. Here is a list of popular local foods in Ipoh that must be tried.
1. Ipoh White Coffee
You have never had a taste of Ipoh's local foods until you have experienced the amazing white coffee in one of the Hainanese coffee shops.
This is a famous drink in the streets of Ipoh which is frothy, rich and the fragrant is just to die for. Sin Yoon Loong is a favourite spot for many for the Ipoh's white coffee.
Kedai Kopi Sin Yoon Loong
15A, Jalan Bandar Timah, 30000 Ipoh
Open in Google Maps
---
2. Yong Suan Nasi Ganja
This popular signature dish in Ipoh consists of Okra, fried chicken, salted egg and a sliced cucumber. The dish is usually topped with robust curries and a special chutney. It is usually served with some soft rice as well. The uniqueness of this dish has made it so famous that you will always find a queue.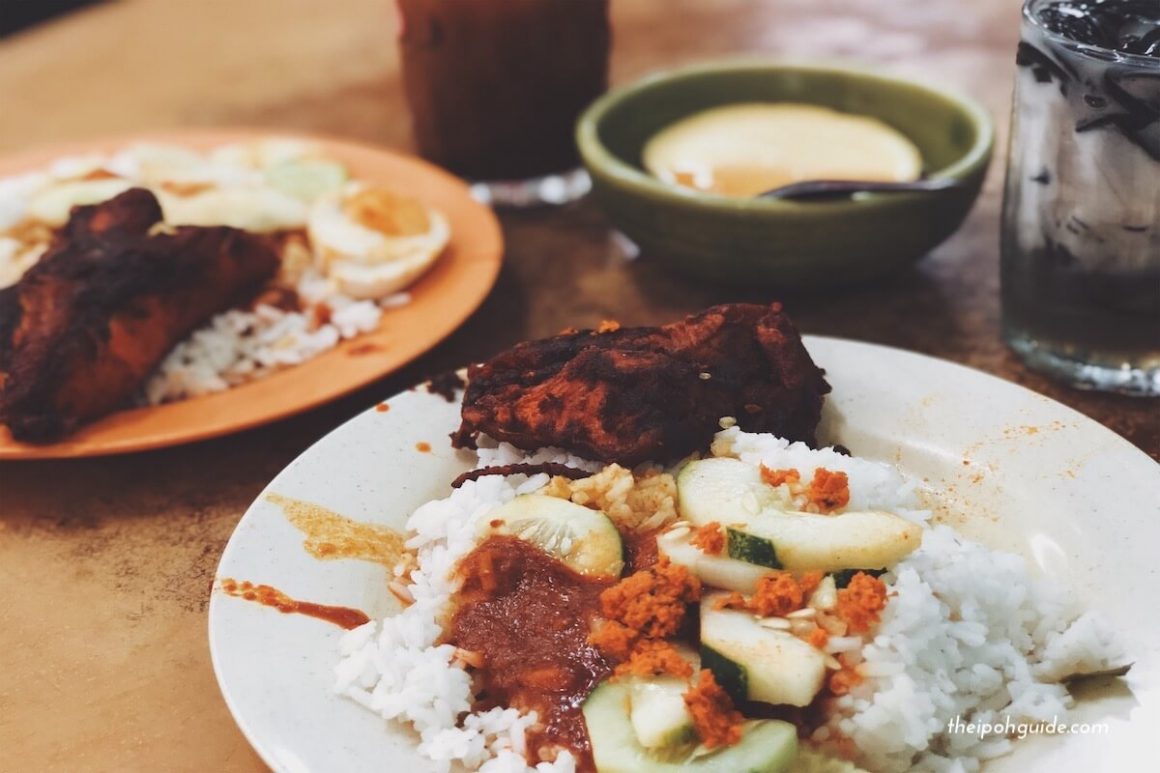 Make sure you try it out at the Yong Suan coffee shop for the authentic taste.

Nasi Ganja Kedai Kopi Yong Suan
2, Jalan Yang Kalsom, Taman Jubilee, 30300 Ipoh
Open in Google Maps
---
3. Bean Sprout Chicken Rice
Do not get it twisted, the bean sprout chicken is not cooked jointly. They are usually cooked separately and they turn out equally tasty. The vendors steam the chicken skin until it is smooth and chewy but the flesh remains tender and firm.b The bean sprouts are usually made fat and crunchy. It is served with rice. You can enjoy this dish in Lou Wong.
Restoran Tauge Ayam Lou Wong
49, Jalan Yau Tet Shin, Taman Jubilee, 30000 Ipoh
Open in Google Maps
---
4. Chee Cheong Fun
Chee Cheong Fun is composed of soft rolls of steamed rice noodles with condiments such as chilli sauce, pickled green chilli, mushroom, sweet bean sauce, minced pork gravy and topped with sesame seeds sprinkle and crunchy shallot crisps. Most locals say the grumpy uncle in Caning garden serves the best Chee Cheong fun.
Canning Garden Chee Cheong Fun
5, Lorong Cecil Rae, Taman Canning, 31400 Ipoh
Open in Google Maps
---
5. Wan Tan Hor
Just a mouthful of this street cuisine will leave you yearning for more. It is made up of fried kuey tiaw which is showered with egg sauce. You can enjoy this amazing dish at Tuck Kee Restaurant.
Tuck Kee Restaurant
1-3, Jalan King, Taman Hoover, 31650 Ipoh
Open in Google Maps
---
The variety, quality, and taste of Ipoh's local foods is unmatched. Most of these dishes here can only be found in this amazing city. Ipoh can be a great place to experience the diverse cuisine of Malaysia. Visit the city and have your taste buds put to test with some of the local food vendors. You should, however, make sure you pick a spot that is clean and the vendors observe hygiene.
---
While in Ipoh, do check out: