Ipoh is known for its rustic beauty and food. There are tons of locations to capture Instagram worthy shots around Ipoh. You'll get to see the true beauty of Ipoh when you explore the streets and local monuments here.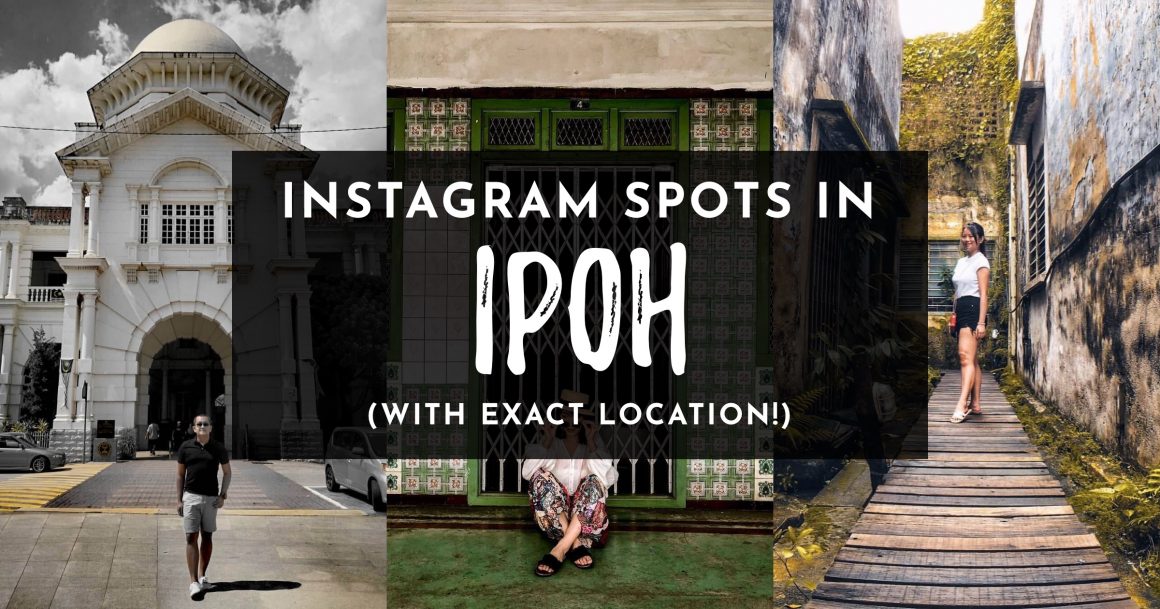 These picturesque spots in Ipoh are where you can practice all your photography techniques and impress your Instagram followers.
Here's a list of the 31 Instagram spots in Ipoh which might be your Instagram post:
Around Ipoh Town
Let's start with the spots around Ipoh's old and new town.
---
Ipoh Railway Station
Starting off with the Taj Mahal of Ipoh, Ipoh Railway Station stands proudly with its majestic white building. The place looks calm and has a classic feel about it irrespective of the busy railway lanes. You cannot get enough of posing in front (or at the corridors) of the lovely Ipoh Railway Station.
Find it here: Stesen KTM Ipoh, 30000 Ipoh
---
The Umbrella Street (Market Lane)
The Market Lane (Second Concubine Lane) makes a roof of vibrantly colored umbrellas over your head. Nothing can be more magical and lively than this Umbrella Street.
Find it here: Market Lane 30000 Ipoh
---
Birch Memorial Tower
The steps leading to this exquisite white tower are the most popular spot among photographers and Instagrammers. No matter the time of the day, the tower is always in its best form for your pictures.
Find it here: Birch Memorial Tower, 31650 Ipoh
---
St John's Church Ipoh
St Joh's Anglican church is a hidden gem located just across the street from St.Michael's Institution school building. Built in 1910, this church is one of the oldest churches in the country. It is also one of 25 gazetted heritage buildings listed on the Heritage Trail Map.
Find it here: Jalan St. John, Perak, 30200 Ipoh
---
Trishaw Garbage Collector Mural
All of the mural arts in Ipoh are quite impressive. But this mural of a trishaw garbage collector is so attractive that you cannot resist posing in front of it. This is one of the 7 wall art murals by Ernest Zacharevic.
Find it here: Narrow Road off Jalan Bijeh Timah Ipoh
---
Kong Heng Square Artisan Market
Kong Heng Square Artisan Market is lovely and picture-perfect. The market is full of spots, where you can pose and have your most-liked Instagram photos. Check out the rustic walls and windows around this place.
Find it here: Kong Heng Square, 30000 Ipoh, Perak
---
Ipoh Town Hall (Dewan Bandaran Ipoh)
The Ipoh Town Hall is located just opposite the Ipoh Railway Station. The beauty of this sturdy colonial building makes it a perfect for both wedding photography and also for your Instagram profile. Make sure to enjoy this beauty at night too.
Find it here: 2700, Jalan Panglima Bukit Gantang Wahab, 30000 Ipoh
---
The Vintage Gate (Concubine Lane)
Vintage metal gates still exist in houses and buildings around Ipoh. These lovely spots along Concubine lane is a great backdrop for your next photo. No filters needed for these vintage setting.
Find it here: Concubine Lane 30000 Ipoh
---
---
London Telephone Booth
There is a little London touch at the end of the Concubine Lane. The London Telephone Booth is where you and your friends can pose as crazily as you can. The background also makes a great addition for your Instagram stories.
Find it here: No 5, Jalan Bijeh Timah, 30000 Ipoh
---
Old Uncle With Coffee Cup Mural
This mural of an old uncle with a cup of White Coffee is another masterpiece of the Lithuanian artist, Ernest Zacharevic. Known as the 'Art of Oldtown' project, this mural symbolises the heritage shared between Ipoh and white coffee. This giant mural is enough as a photo in your Instagram to show that you've been to Ipoh.
Find it here: No. 3, Jalan Tun Sambathan, 31650 Ipoh
---
Plan B
Plan B is famous for both its food and the picturesque setting of the place. Hence, you must go there and get some lovely Instagram posts for your timeline and stories. It is one of the best spots for a group shot.
Find it here: No. 75, Jalan Panglima, 30000 Ipoh
---
Sekeping Kong Heng Stairs
The impressive black metallic stairs to Sekeping Kong Heng retreat is a great spot for you to try out your best poses for Instagram. The rustic beauty in the vicinity makes it an even lovelier spot. Great for a portrait shot too.
Find it here: 74, Jalan Bandar Timah, 30000 Ipoh
---
The Swing Mural (Ipoh Booth Cart)
Situated at the side entrance of Ipoh Booth Cart building, this is an adorable spot with a mural of a child on a swing beside you as you sit on the other real swing and pose for the picture.
Find it here: 11A, Jalan Bijeh Timah, 30000 Ipoh
---
Giant Bench
This giant bench has become a favourite spot to take rest after walking around and also a perfect setting for a photo.
Find it here: Concubine Lane, 30000 Ipoh
---
Metal Rustic Gate
Adding to the rustic style of Ipoh is this metal gate is beautiful as a backdrop to you.
Find it here: Just to add a little adventure, go explore and comment below if you found this metal gate 😉
---
Time Tunnel Ipoh
For vintage lovers, Time Tunnel Ipoh is a must-visit spot in Ipoh. Stacked with old equipment and collectibles, Time Tunnel Ipoh brings back the nostalgic memories from yesteryears. There are setups from the old kitchen, barbershop, living room and many more.
Find it here: 23, Jalan Panglima (1st floor), 30000 Ipoh
p.s. There's an entrance fee of RM6 (Adult) & RM4 (Child)
---
---
Burps & Giggles Roadside
Burps & Giggles is located in an old shophouse along the main road connecting to the Ipoh field. This shophouse used to be a dressmaker's store and the signboard to that store is still maintained to restore the colonial-era style.
Find it here: 93-95, Jalan Sultan Yusof, 30000 Ipoh
---
Book Xcess Kong Heng Ipoh
The latest addition to Ipoh town is Book Xcess. This bookstore is so unique where it is built in a former bank vault in Ipoh. Safety deposit boxes are used as book display stands and the vault's gate is preserved too. The neon lights on the outside are also a perfect spot to craft a striking night photo.
Find it here: 91, Jalan Sultan Yusof, 30000 Ipoh
Opens: 8am to 10pm daily
Facebook: https://www.facebook.com/BookXcess/
---
Dé Cafe & Rest House Walkway
Along the alley leading to De Cafe & Rest House is this beautiful walkway which is a beautiful spot to click a photo. The natural plants and old walls produce a hipster tone. The De Cafe & Rest House offers both food and dormitory hostel stay.
Find it here: 35, Jalan Sultan Iskandar, 30000 Ipoh
---
Kinta Heights (Jalan Bijeh Timah Flats)
The latest addition to Instagram spots in Ipoh is this colorful flat. Located just opposite the famous Sin Yoon Loong coffee shop.
Find it here: Kinta Heights Flats (Opposite Kedai Kopi Sin Yoon Loong)
---
Hugh Low Street
Hugh Low Street, now renamed as Jalan Sultan Iskandar houses a long row of old shop buildings. Some buildings are abandoned but many are still in use. The vintage architecture and signage of some shops are so unique you'll definitely need to snap a photo.
Find it here: Jalan Sultan Iskandar Ipoh
---
Kinta Riverfront
Kinta riverside walk is beautiful at night. You'll find many shops and lights along the riverbank. It's one of the best places to have a calm evening walk with friends and family.
Find it here: Jalan Lim Bo Seng, 30000, Ipoh
---
The Deck Gastrobar Rooftop
One of the best hotel rooftops in Ipoh is The Deck Gastrobar. Located on the top floor of WEIL Hotel Ipoh, you can enjoy a bird's eye view of the city. There's also a pool for the hotel customers but the bar and restaurant are open for the public.
Find it here: 292, Jalan Sultan Idris Shah, 30000 Ipoh
Local Tip: Best to chill here at night ☾
---
M Boutique Hotel Ipoh
This boutique hotel has lots of photo-worthy spots. The luxurious rustic interior design makes a great reason to take a photo.
Find it here: 2, Hala Datuk 5, 31650 Ipoh
---
Further Away From Ipoh Town
The following places are further away from Ipoh's old and new town areas. You'll need a ride to get to these places.
Read: Getting Around Ipoh – 6 Best Options To Move Around Ipoh
---
Sam Poh Tong Temple
Ever thought of taking a photo in front of a hidden temple in a forest? Well, the Sam Poh Tong cave temple is the perfect place to be. Located about 5KM from the city center, Sam Poh Tong cave temple is the oldest Chinese temple in Ipoh.
Find it here: Kampung Gunung Rapat, 31350 Ipoh
---
Tasik Cermin Ipoh (Mirror Lake)
This (kind of a hidden) lake has breathtaking and calm nature which is amazing to take photos. Despite a mere 5-10 minutes' walk from the car park, it is totally worth visiting this lake.
Find it here: Persiaran Pinggir Rapat 5a, 31350 Ipoh
---
---
Kellies Castle
This historic castle is one of the popular Instagram spots in Ipoh. The castle gives an ancient vibe and feel. It is definitely a picturesque location with the castle on the small hilltop and a river flowing at the foothills.
Local Tip: Being some water as it can get a little hot
Find it here: 31000 Batu Gajah, Perak
---
Gunung Lang Recreational Park
Quiet and slightly further from the busy town, Gunung Lang is a lovely place to enjoy a cold breeze since it's located beside a jungle. There's a 2-minute boat ride to the other side of the lake. Enjoy the scenic view and greeneries here.
Find it here: Gunung Lang Ipoh
---
Moss Eatery Jalan Besar
A hipster eatery serving delicious local cuisines with a group of buskers providing pleasant live music. Setting great ambiance, this place has been the favourite picturesque spot for many.
Find it here: 11&13 Jalan Besar Tambun, Kampung Lata, 31400 Ipoh
---
The Haven Lakeside Ipoh
A beautiful resort hotel tucked around natural hills. The soothing breeze and greeneries set an amazing photo spot. The swimming pool is the highlight of this place.
Find it here: The Haven Lakeside Ipoh
---
Kek Lok Tong Cave
Kek Lok Tong is a beautiful temple housed inside a limestone cave. As you walk further inside, it opens up to a beautiful garden with ponds and greenery all around. A peaceful and picture-worthy spot you must visit.
Find it here: Kek Lok Tong Temple
---
Qing Xin Ling Leisure & Cultural Village
A great place to spend time with family. There are free bicycles to ride around, a big pond in the middle, surrounded by rocky hills. If you love antiques, there are exhibits of old stuff such as old music record posters, typewriters, and gasoline lamps.
Find it here: Qing Xin Ling Leisure & Cultural Village
---
Go Visit: Instagram Spots in Ipoh
Now that we've revealed everyone's favourite spots to take Instagram shots, all of these lovely spots are awaiting you to come and try out your favourite poses and post the pictures on Instagram.
Related Post
---
Get Discounts & Promotions
From time-to-time, we'll send out discounts and latest news about Ipoh to our private email list. Join the Exclusive list for free!
---
---
---
Pin this article to plan your trip to Ipoh
What are your favorite Instagram spots in Ipoh?
Comment your experiences, ideas or questions below.