Savored something in Ipoh that you'd really want your friends and families to try? Fret not, from delicious food to handmade souvenirs, Ipoh offers tourists and locals alike something to take home proudly to share with others or call them yours.
Here are the top 8 must-buy souvenirs in Ipoh before you leave, and of course return in the future.
Ipoh's White Coffee
When it comes to white coffee, the first place that comes into mind is none other than Ipoh. This quaint town is known to be one of the pioneers of white coffee in the world and people from all walks of life come from all over the world just to get the authentic taste of the town's white coffee.
Most of these Kopitiams actually sell their own pre-packed powders. Just pick as many as you like off the shelf and you're good to go. This would be the best souvenir you can get from Ipoh and I'm pretty sure that nobody will reject an authentic cup of Ipoh white coffee anytime.
Where to get 3-in-1 authentic Ipoh White Coffee?
Chang Jiang White Coffee
7, Jalan Windsor, 30250 Ipoh
Open in Google Maps
---
Kacang Puteh
Kacang Puteh is a Malay term which can be directly translated into "White Nuts". Kacang Puteh is a popular Malaysian snack that you can't get enough of. This local past time favourite is not only colourful but surprisingly tasty as well. There's an area in Ipoh (Kampung Kacang Puteh) where these snacks are locally cooked and imported to all around the world.
It comprises of a wide variety of nuts, with all sorts of textures and flavors. Other than nuts being the main ingredient, dhal beans, peas, tapioca starch and spices like turmeric and cumin are also used, which gives the snacks their unique and addictive flavors.
In fact, Kacang Puteh is so versatile that you can have it as a snack, appetizer or even a souvenir. Thus, what could be a better souvenir than this easy-to-carry and tasty snack?
You can get them in any size from small to large packets.
Where to get Kacang Puteh?
D.N.S Kacang Puteh Ipoh
46, Laluan Sungai Pari, 4, Kampung Kacang Puteh, Buntong, 30100 Ipoh
Open in Google Maps
You may also check out the other Kacang Puteh stores around this area.
---
Egg Tarts
Combining a soft and smooth custard center with crusty pastry exterior gives rise to one of the most iconic delicacies Ipoh has to offer. The egg tart. Craving for a dessert or snack after a day trip in Ipoh? Why not get yourself some egg tarts from the famous stores in Ipoh.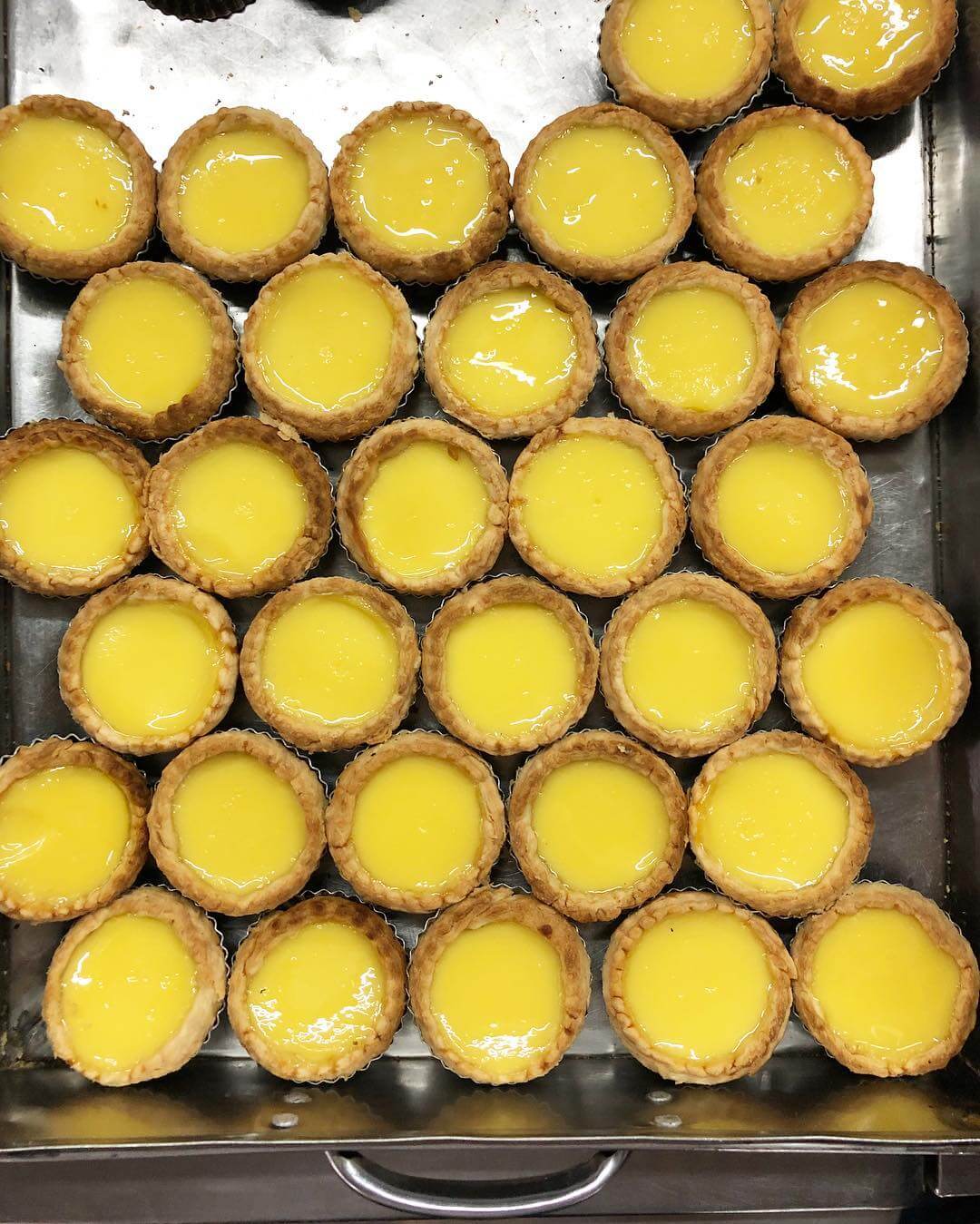 Its center is made with fresh eggs and custard, whisked into an aromatic and sweet filling that will definitely satisfy your sweet tooth.
Freshly-baked egg tarts serve as great souvenirs to bring back to your friends and family regardless of age and gender. They will certainly thank you for it.
Where to get good Egg Tarts in Ipoh?
Hong Kee Confectionery
134, Hala Wah Keong, Taman Mirindi, 31400 Ipoh
Open in Google Maps
---
Kaya Puffs
Can't enough of sweet snacks and desserts? Then you should definitely try Ipoh's very own Kaya Puffs. Speaking about Kaya Puffs, Sin Eng Heong would be the place any locals would recommend to buy them.
Also known as Kaya Kok by the locals, this legendary snack has generous kaya fillings wrapped by light and flaky pastry. Do get at least a box back if you happen to visit Ipoh. This is a must-buy snack, a souvenir with a taste of Ipoh.
Where to get crunchy Kaya Puffs in Ipoh?
Sin Eng Heong
64, Jalan Mustapha Al-Bakry, Taman Jubilee, 30300 Ipoh
Open in Google Maps
---
Tambun Pomelos
Pomelo is a seedless fruit rich in minerals like potassium and folic acid and also a good source of Vitamin C.
Why is it a must to get them from Ipoh? Simply because the Pamelos from Ipoh are planted in Tambun Valley, surrounded by limestone hills that are rich in minerals for the trees to thrive, which gives them their phenomenal taste. This souvenir will not only satisfy the tastebuds but also acts as a sign of prosperity and good fortune.
Where to get Pomelos?
Go Chin Pomelo Nature Park
158258A, Jalan Ampang Tambun, 31400, Ipoh
Open in Google Maps
---
Meat Floss Lotus Paste Biscuits
A combination of sticky, sweet pandan lotus paste with savory meat floss leaves a harmonious mixture of aromas and textures when you bite into it.
This local delicacy which is surprisingly tasty is also beautifully boxed so that you can bring it home as a presentable souvenir. Watch it disappear from the box as soon as it hits the office pantry.
Where to get Meat Floss Lotus Paste Biscuits?
Guan Heong Biscuit Shop
Jalan Sultan Iskandar, Taman Jubilee, 30000 Ipoh
Open in Google Maps
---
Antiques (Only On Sundays)
Taking a break from eating and looking for some antique souvenirs in Ipoh to always remind you of Ipoh? This amazing town with a strong heritage might just have the thing for you. Head down to Loken Market Ipoh to browse the many local antiquities on offer at reasonable prices.
More about Loken Market: Antiques, Collectibles And 5 Unique Finds At Loken Market Ipoh (Pasar Karat)
---
Local Made Handicrafts
Looking for genuine hand-crafted items? Getting a unique gift or souvenir that you can't possibly find it anywhere else? Look no further than Kong Heng Square Artisan Market, which is a testament to authentic local Ipoh handicrafts.
Do visit this place and pick yourself up some handicrafts or trinkets. It might even bring out the artistic nature in you. Oh and by the way, don't forget to check out the many "Talking Trees" at the market.
Where to get local handmade Ipoh handicrafts?
Kong Heng Square Artisan Market
30000 Ipoh, Perak
Open in Google Maps
---
Conclusion: Souvenirs in Ipoh
Now you know what to get from the beautiful town of Ipoh. Take a drive there and have a short getaway and you don't have to worry what souvenirs to get as they are all listed here. Have fun in Ipoh!
While you're visiting Ipoh, these might be helpful:
5 Best Hotels In Ipoh (2019)
M Boutique Hotel Ipoh: 6 Astounding Reasons To Stay Here
5 Popular Local Foods in Ipoh
How To Get From KL To Ipoh – By Train, Bus, Flight and Car
As usual, if you think we missed out any of your favorite souvenirs in Ipoh, feel free to drop a comment below. 🙂